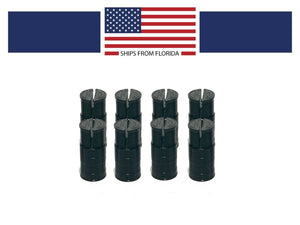 These are NEW 3d printed reproduction black pegs for attaching front speaker grill on JBL speakers. Replace your old brittle pegs that may no longer be holding the speakers on. Fits many JBL models
Fits:

JBL 4333 
JBL 4341
JBL 4331A
JBL 4333A
JBL 4343 
JBL 4344 
JBL 4345
JBL 4350
JBL 4355
JBL 4435
JBL Jubal
JBL L150
JBL L300
JBL Summit
JBL B460 
JBL B380
JBL L100 
JBL L300 
JBL L212
JBL L65 
JBL CENTURY II,  L112 / L-112 
JBL HORIZON L-166 / L166
JBL DECADE L-36 / L36 & L-26 / L26
Ships Fast from Port Orange FL, USA- Ships same day for orders placed before 2pm EST!